'Dhatura-Roots' Hair Oil For Hair Fall & Regrowth

Word of mouth is how we get most of our customers.
Most of our customers are repeated buyers or recommended by friends or family. Because this hair oil is super effective to reduce hair fall and dandruff.

✅ 100% Ayurvedic
✅ ISO and GMP Certified
✅ Reverses hair loss
✅ Grows hair super-fast
✅ Gives hair more volume
✅ Increases hair thickness and strength
✅ Regrows thinning edges
✅ Cures dandruff
✅ Gives hair better texture and body
✅ Softens and detangles hair
✅ No side effects
Ancient, yet scientific formula to stimulate hair growth and reduce hair fall.
WHY DHATOORA ROOTS HAIR OIL?

The older the problem, the older the solution. How to grow healthy hair is one of the oldest problems. We looked back into the Sanskrit ayurvedic classical texts to find a hair growth formula written by ancient sages.
​
And this hair oil is based on the ayurvedic classical text Sahasrayogam, which was written thousands of years ago. Juice and paste of a throned plant named Datura is the main ingredient of this oil. That's why this oil smells like crushed green leaves.
​
This ancient Sanskrit formula stimulates new healthy hair growth. And effectively reduces hair loss, dandruff, split ends, and other hair problems.
Ingredients: Dhathoora Swarasa, Dhathoora Kalkka, Castor Oil, Sesame oil , Kalongi, Methi Dana, Onion Seeds Oil, Onion Rasa, Coconut Oil, Almond Oil.
Quantity: 100 ml
How To Use:
Step 1 : Lukewarm in a bowl.
Step 2 : Part your hair in two halves and apply the oil directly to the scalp
Step 3 : Leave it overnight, or for few hours.
Step 4 : Wash off with Daadi Pharma Shampoo
Use 4-5 days a week for best results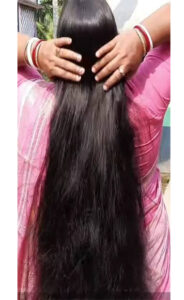 Reviews From Customers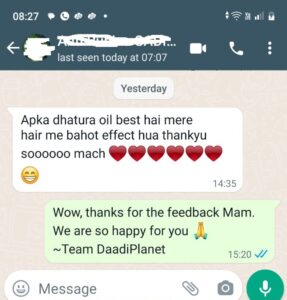 ★★★★★  Vanitha
My hair is thin and very curly but very dry and brittle.My hair appeared to have completely stopped growing and was getting shorter by just breaking off even while I wasn't cutting it at all.
I use this product in the roots of my hair and finger feed through to the ends. 
Though I know long term use will yield great results, the results I have already received in a week are so wonderful. Great purchase, I have recommended to several others, will buy again!
★★★★★  Manish 
I use this on my scalp to help with hair growth .I massage it on my scalp for about 5 minutes and wash my hair . I don't have anything to compare it to but my hair has been growing back stronger and healthier. 
★★★★★  Nikhil 
Love this product ! I've been using it for a few weeks and I've already seen growth in my hair. My hair has seemed to be growing very slowly . With this quarantine, I've decided to work on getting it to be healthy again! This product has helped so much.I noticed my hair actually had a shine to it and felt a lot smoother than normal. Overall very please and excited to continue using.
★★★★★  Vishu 
This is the best hair oil I have used for dandruff. It works very well. Its easy to apply. 
★★★★★  Aditya Thadani
 I've been using this product for approximately 1 1/2 months and I can feel the regrowth stubble on my scalp. And I've noticed that the thin spots in my hair don't show as much now, which means it is starting to fill in. I am very happy with this product so far and expect it to continue to help with hair regrowth over the next couple of months
★★★★★  Ramya 
This is my 2nd time buying this product.
I've recommended it to several people I know. This is great for thinning hair, really fills it in. Helps prevent hair loss. I tend to lose a lot of hair everytime I wash it and using this oil has helped that stop.
★★★★★  Bhavya 
I had a lot of hair fall and I had a spot towards the front of my hair line that was super thin. I bought this and applied as directed. With in the week my hair stopped falling and I am now growing back some of the hair around my hair line. Love this stuff, would definitely recommend.
Key Ingredients
Benefits
How to Use
Who can Use
Why Dhatoora Roots Hair Oil?
Key Ingredients
Dhatura Swarasa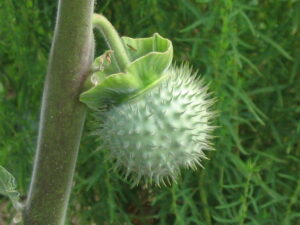 Dhatura Kalkka
Crushed Dhatura Leaves
Sesame Oil 
Castor Oil
Coconut Oil
Onion Seeds Oil
Kalongi 
Benefits
How to Use
Who can Use
Why Dhatoora Roots Hair Oil?
Are there any Side-Effects of Dhatoora Roots Hair Oil?
Are there any chemicals or Mineral oils in Dhatoora Roots Hair OIl?
No, It is 100% ayurvedic and made from fine organic ingredients
Is Dhatoora Roots Hair Oil safe for Teens and Minors?