We know when it comes to the hair on your head you love them most but are you facing these problems?
Hair Loss
Dry Hair
Split Ends
Frizzy Hair
Dull Hair
Gray Hair
Greasy Hair
Dry Scalp
Weak Hair
Dandruff
Have you tried all expensive serums, conditioners, ayurvedic treatment, consultation and prescriptions of expensive doctors?Have you lost all hopes?
Bet your last penny on us, trust you will not regret.
Key Ingredients
Benefits
How to Use
Who can Use
Why Bhringa Hair Protection Oil?
Key Ingredients
Castor oil
Castor oil is also known as Ricinus communis, is a nutrient-rich vegetable oil that comes from castor beans.
It deeply nourishes the scalp with proteins, vitamins and antioxidants and helps increase the blood circulation to the scalp. Castor Oil also improves absorption of other ingredients in the hair and locks in scalp & strang moisture.
Onion Oil
Onion oil, rich in Sulphur, Potassium & antioxidants, reduces hair fall & accelerates hair regrowth. One of the newest breakthrough ingredients in hair growth, Redensyl, unblocks hair follicles & also boosts new hair growth. Safe for colored & chemically treated hair, the onion oil is free of harmful chemicals & toxins such as Silicones, Parabens, Mineral Oil, and Dyes.
And because of our no toxins and no harmful chemicals philosophy, you won't find any Silicones, Parabens, mineral oil & dyes in our organic onion hair oil. 
Onion Seeds Oil
Onion seeds Oil increases blood supply to hair follicles, which in turn improves hair growth. It also prevents hair loss.
Redensyl 
The newest breakthrough ingredient against hair loss, and the best alternative to hair transplantation, Redensyl can significantly boost hair density, thickness, fullness, strength and overall health.
Almond Oil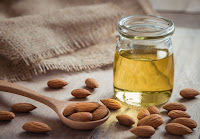 Omega-3 fatty acids, phospholipids, Vitamin E, magnesium present in Onion Oil nourish and strengthen your hair while being optimal for treating hair loss and damaged hair.
Bhringraj Oil  
It aids in blood circulation, promotes hair growth, and prevents hair fall. Since it is also deeply moisturizing, it works as a natural conditioner for your tresses.
Amla Oil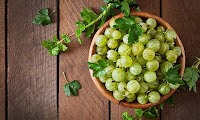 Amla Oil promotes overall health of hair & scalp, and prevents premature greying.
Reetha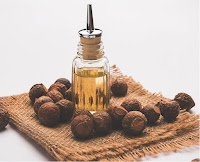 Reetha helps control hair fall by removing dandruff from the scalp. According to Ayurveda, dandruff is the prime cause of hair fall. It is a condition marked by flakes of dry skin on the scalp. Reetha helps to control dandruff and promotes hair growth due to its Tridosha balancing property. The Tikshna (sharp) nature of Reetha also helps to keep the scalp dandruff- free.
Shikakai Powder
Shikakai, also called Shika in Tamil, Seekaaya in Telugu, and Soap pod in English is a powerful ayurvedic cure for healthy, long hair. The Shikakai tree's pods, leaves, and bark are high in vitamins A, C, D, E, and K. It may be used to clean hair, make hair oil, and even make hair masks to feed the hair as well as help it grow quickly. Shikakai also contains vitamins that aid in hair regeneration.
Shikakai promotes hair development, reduces hair loss and breakage, and adds bounce and lustre to the hair. Shikakai is also utilised in many Ayurvedic shampoos and soaps, and its bark has a high quantity of saponins, which are employed as a foaming ingredient in many shampoos. Saponins are a gentle cleaning agent that aids in the maintenance of a clean and healthy scalp.
Tea tree oil
Tea tree oil has the ability to transform your hair, starting at the scalp. Its antimicrobial, antibacterial, and anti-inflammatory properties make it a potent treatment for dandruff, improving overall scalp health. Healthy hair and new growth start at the scalp, so improving your scalp health should be the first step in any attempt to increase hair growth.
Virgin Coconut oil
Of the thousands of supposed uses, coconut oil has been crowned the beauty ingredient of the century. That's because of its many benefits.
Moisturizing: Besides the fact that it's so accessible (and attainable), coconut oil is packed with healthy omega-3 fatty acids along with vitamin E, making it an ideal ingredient for treating dry hair (or skin).
Repairs damage: As proven, coconut oil is deeply hydrating for your hair. I swear by massaging a dollop of coconut oil into my roots down to the ends of my naturally curly hair. It leaves a subtle shine, and my hair feels moisturized for long periods of time.
Improves the overall health of the hair: "Coconut oil can help to strengthen hair and nourish the scalp (as well as reduce oil buildup," Marchbein says.
Kalongi
Kalonji oil is rich in antioxidants and has antibacterial, antifungal and anti-inflammatory properties, which makes it one of the best oils for hair. It known to reverse hair damage and help in hair regrowth
Methi Dana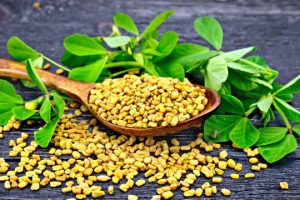 Fenugreek seeds also have high protein and nicotinic acid content, which are known to be beneficial against hair fall and dandruff, and in treating a variety of scalp issues like dryness of hair, baldness, and hair thinning.
Benefits
How to Use
Who can Use
Why Bhringa Hair Protection Oil?
Can I know more about Bhringa Hair Protection Oil?
This is not a regular ordinary hair oil. It's our Daadi's 70 years old proven formula.
This oil cures Hair Loss, Dry Hair, Split Ends, Frizzy Hair, Dull Hair, Gray Hair, Greasy Hair, Dry Scalp, Weak Hair, Dandruff etc with 100% guaranteed results.
If you have ended up using everything then must use it once.
After earning reputation locally, now we thought to benefit others at a mass scale.
We are not a big sci-fi brand so don't expect much glitters in branding, marketing and packaging.
You will receive oil in a simple looking container but that works magically.
We share instructions and tips with you as suggested by Daadi ji.
Follow instructions to get better results.
मुझे Bhringa Hair Protection Oil के बारे में थोड़ा और ज्यादा बताएं
यह एक साधारण हेयर आयल नहीं है ।
यह हमारी दादी का 70 साल पुराना सिद्ध फॉर्मूला है।
यह तेल बाल झड़ना,रूखे बाल,स्प्लिट हेयर,उलझे बाल,कमजोर बाल,सफ़ेद बाल,ऑयली हेयर,सिर का रूखापन,रूसी आदि समस्याओं का 100% गारंटीड परिणामों के साथ ठीक करता है।
स्थानीय स्तर पर प्रतिष्ठा अर्जित करने के बाद, अब हमने बड़े पैमाने पर दूसरों को लाभान्वित करने के विचार से ऑनलाइन शुरू किया है ।
अगर आप सब कुछ यूज़ करके थक चुके हैं तो एक बार यह तेल जरूर यूज़ करें।
हम एक बड़े साई-फाई ब्रांड नहीं हैं, इसलिए ब्रांडिंग, मार्केटिंग और पैकेजिंग में बहुत अधिक चमक- दमक की उम्मीद न रखें।
आपको एक साधारण दिखने वाले कंटेनर में तेल मिलेगा, लेकिन यह जादुई रूप से काम करता है।
दादी जी के सुझाव के अनुसार हम आपके साथ निर्देश और सुझाव साझा करते हैं।
बेहतर परिणाम पाने के लिए निर्देशों का पालन करें।
Are there any Side-Effects of Bhringa Hair Protection Oil?
Ans- No SIDE EFFECTS OF Bhringa Hair Protection oil Bhringa Hair Protection oil is made with 100% pure ayurvedic oil with 100% organic ingredients
Are there any chemicals or Mineral oils in Bhringa Hiair Protection OIl??
No, Bhringa hair protection oil is 100% ayurvedic and made from fine organic ingredients
Bhringa Hair Protection oil can be used for kids above 1.5 years.
Is Bhringa Hair Protection Oil safe for Teens and Minors?